MAP E32 APP for IOS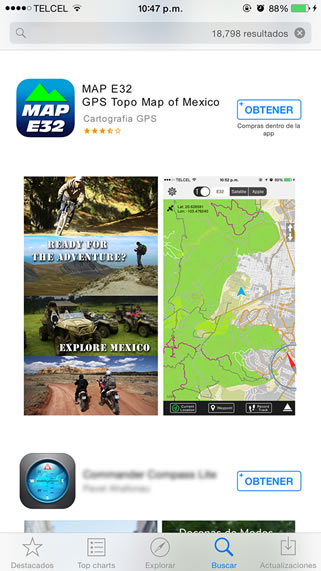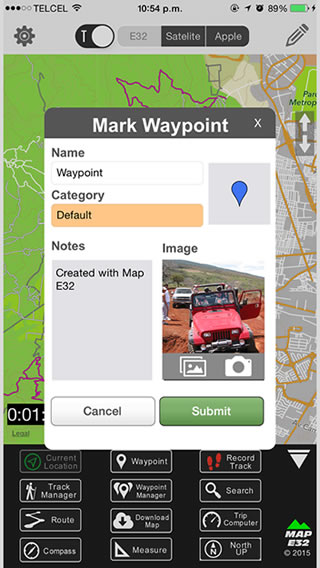 Use the Map E32 base map cartography
In the same app you can interact with the map E32, satellite images and Apple maps
Scroll the map with your finger and go back to your current position with a single button
Mark your favorite sites using a fairly extensive gallery of waypoints

Sort your waypoints by category add Notes and tag photos
Record your Tracks with TRACK RECORD button which has the following functions: Play, Pause, Stop, delete, save, share, select color, line thickness and name it.
TRACK RECORD records your: DISTANCE, NUMBER OF POINTS, TIME AND AREA
Manage your tracks with Track Manager, mark your favorite tracks, create categories and apply search filters.

Manage your waypoints with Waypoint Manager, mark your favorite waypoints, create categories and apply search filters.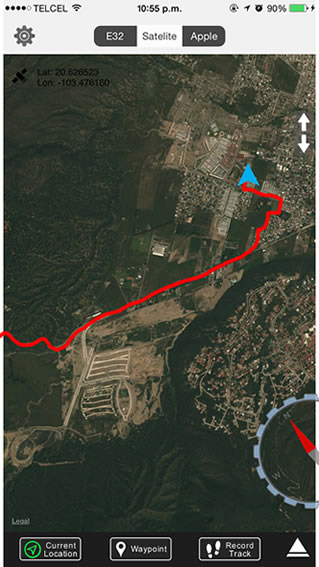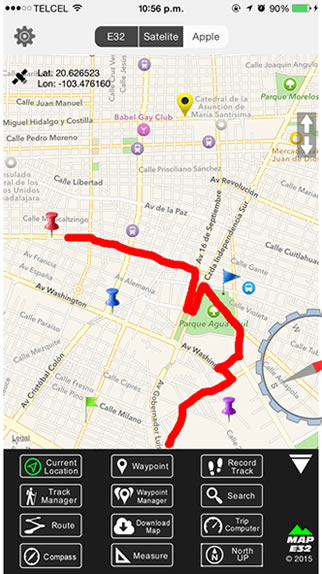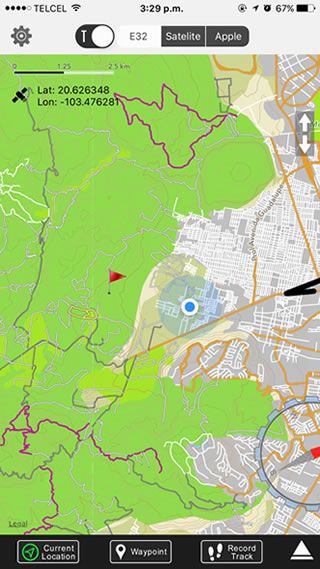 With SEARCH button, you can perform the following searches:
- Points of interest included in the map E32
- Directions and POIS of Apple Maps database
- Personal waypoints and tracks
Create routes to reach your destination using Apple Maps database (does not work with the map E32 database)
Download Map E32 regions for OFF LINE use, these regions are stored on your device within the app that way you have them available when you go for an adventure
All iPhone and iPad 3G have internal GPS antenna so as long as you have satellite signal the device will give your position, this combines with MAP E32 OFF LINE MAPS allows you to go OUTDOORS without relying on internet.
The TRIP COMPUTER function records the following data: ELEVATION, DISTANCE, maximum speed, average speed, current speed, moving time, stopped time, total time and coordinates. These data can be reset when you decide.
Compass function integrated into the application
With the MEASURE function you can draw a line on the map leaving points, the line may be in the form and amount of points you wish and the app will tell you the distance.
The satellite icon will indicate the quality of the signal
General Settings Panel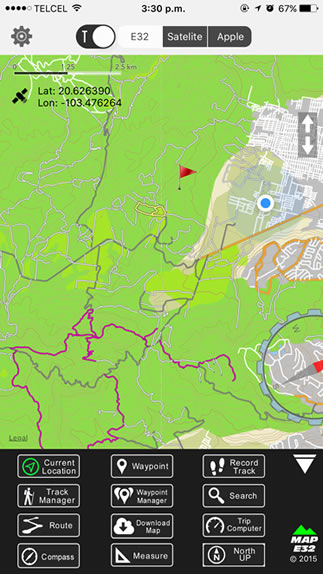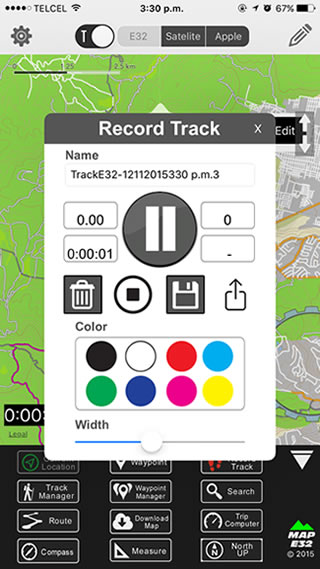 Navigate NORTH UP or USER HEADING to rotate the map to where you're moving.
Share your tracks and waypoints with other users via email
Download via e-mail tracks and waypoints that are GPX format and once the file is opened with the app you'll be able to save it as part of your collection.
Extend the Map to full screen
Display your coordinates when you have satellite signal
Map scale available for measuring distances quickly